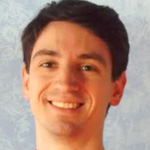 Stephen Nadeau Interview
Q: When & why did you begin ballroom dancing?
A: When I was 15 years old because it had health benefits and I needed to dance at a wedding.
Q: What do you enjoy most about dancing?
A: The expressiveness of the movement.
Q: What is your proudest dance moment?
A: Winning four events at the Los Angeles Nationals in 2010.
Q: What is your greatest personal strength as a teacher?
A: My ability to break down information and techniques for my students.
Q: What is the best advice you can give your students?
A: Practice and repetition pay off.
Q: What is something most people don't know about you?
A: I love learning about history and architecture.
Q: What are some of your proudest accomplishments?
A: Winning the 10-Dance at a National qualifier.