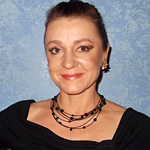 Natasha Klubova Interview
Q: When & why did you begin ballroom dancing?
A: I was a folk and modern dancer when I was quite young. I started ballroom dancing when I was 12 because I wanted to dance with boys.
Q: What do you enjoy most about dancing?
A: The feeling that you get when you eventually achieve something you've been striving for.
Q: What is your proudest dance moment?
A: When I was finally able to come to the United States to dance and teach.
Q: What is your greatest personal strength as a teacher?
A: Being able, long before my students develop an appreciation for dance minutiae and their own capabilities, to visualize their mastery of the technical elements, but still nurture their enjoyment of beginning social dance.
Q: What is the best advice you can give your students?
A: Be patient with yourself, but don't ever stop trying to improve.
Q: What is something most people don't know about you?
A: If I didn't dance, I would have been a veterinarian and opened my own animal shelter.