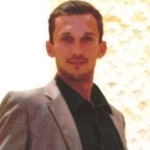 Nikolai Pilipenchuk Interview
Q: When & why did you begin ballroom dancing?
A: When I was four, I began copying my parents as they practiced.
Q: What do you enjoy most about dancing?
A: When each piece of music moves your body and you become a spectator.
Q: What is your proudest dance moment?
A: When I finally satisfied my coaches' investments in me. 
Q: What is your greatest personal strength as a teacher?
A: Being able to understand my students' unspoken questions and issues.
Q: What is the best advice you could give your students?
A: You must practice.
Q: What is something most people don't know about you?
A: I always aspired to be a race car driver when I grew up.
Q: What are some of your proudest accomplishments?
A: U.S. & World Professional 10-Dance Champion
Co-Organizer, Platinum DanceSport Classic
World Class Adjudicator
Aspiring Emcee
Guest Performer on Dancing With the Stars
"Dance Expert" on ABC's Morning Show
Featured Performed with the Baltimore Symphony Orchestra
Host of Red Maple's Salsa Nights